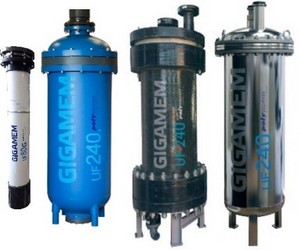 SIMPLE, RELIABLE AND ECONOMIC ULTRAFILTRATION
The GIGAMEM® module combines all the advantages of module filtration (pressure filtration with easy maintenance and online integrity control) and submerged filtration (replacement of membrane elements only).
Thanks to the GIGAMEM® concept, the costs of investment and operation of modules and systems are very competitive. GIGAMEM® is the most compact module on the market with a maintenance-friendly design: a vessel that remains in place for the life of the plant and removable UF2555 membrane elements.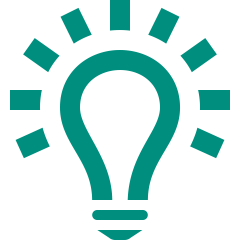 GIGAMEM
Concept
Eco-design: less waste, recyclable for life
Interchangeable membrane elements :

The housing remains in place
Easy monitoring of the membranes; expertise of a UF2555 element
Possible replacement element by element
Reduced cost of renewal: only the membrane elements are to be replaced at the end of their life

Ergonomics of the GIGAMEM® solution

Unique processing capacity and compactness: the GIGAMEM module develops high membrane surfaces
Reduced investment costs: fewer modules, fewer connectors, fewer connection parts on GIGAMEM® systems allow savings on pipes and frames
Optimized maintenance and reduced operating costs : the module vessel no longer has to be moved once installed on site, only the membrane elements are assembled / disassembled on site

Treatment capacity and compactness
Competitive investment cost for the modules and for the whole system consisting of GIGAMEM®

Gigamem® range is composed of modules working in dead end outside/in filtration mode and offering filtration surfaces of 73 up to 540 m² (786 up to 5,800 ft²).

Gigamem ® UF240
UF240 module is composed of:
1/ a 610 mm (24 inches) diameter vessel
stainless steel for fresh water,
composite for sea water
titanium for chlorinated sea water treatment
2/ 56 membrane bundles (reference UF2555) to offer a filtration surface of  582 m² (6,265 sqf ).
Raw water enters from the bottom of the UF240 module and ultrafiltrated water comes out from the 56 bundle superior faces (upper side).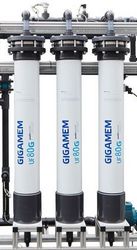 GIGAMEM® UF80G  module
UF80G module is composed of:
1/ a PVC 225 mm (8 inches) diameter vessel
2/ 7 membrane elements (reference UF2555) to offer a filtration surface of 73 m² (786 sqf).
UF80G module is the ideal candidate for the replacement of older generation ultrafiltration modules (in/out or out/in filtration mode) and for "universal systems".

Applications
Drinking water production (NSF and ACS approval) and production of process water from natural water
Tertiary wastewater treatment for recycling or reuse
Pretreatment to desalination or demineralization
Treatment of backwash waters from sand and multimedia filters (collective pool, industry …)
=> In factories from a few m3/h to several hundred m3/h of production capacity
=> In mobile units (containerized)
=> In pilot units

Approvals
–

NSF-ANSI 61 (American Public Health and Safety)
–

ACS (Ministère Français de la Santé)

Data sheets